About Sharyn Peterson, Artistic Director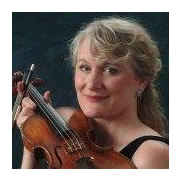 A Seattle native, Sharyn grew up in Normandy Park, graduating from Mt. Rainier High School and the University of Washington, with a Master's degree in Violin Performance and a Bachelor's in Fine Arts (music performance emphasis). Her teachers included Emanuel Zetlin, Denes Zsigmondy, Donald McGinnes, and the Philadelphia String Quartet. She was concertmaster of the University Symphony under Dr. Stanley Chapple and Samuel Krachmalnik, and a member of the Contemporary Group Sting Quartet. For two consecutive years, she received the highest financial award for musical performance: the Brechemin Scholarship, and attended Tanglewood Music Camp as a full scholarship winner, where she performed under the direction of Leonard Bernstein and Seiji Ozawa.
For over twenty-five years Sharyn has taught violin and voice, both privately and in the classroom, as well as music theory, history, and string techniques at the college level. A frequent adjudicator at Northwest music festivals and competitions, she is currently a professional free-lance violinist in both local and international concerts. (Monteverde Music Festival, Monteverde, Costa Rica, 1997 & 1999).
Sharyn has soloed with various symphonies, the most recent a performance at Benaroya Hall in Seattle, of the Brahms Violin Concerto (with Orchestra Seattle; director George Shangrow). Other recent performances: the Brahms Double Concerto with Barton Frank, cello, and the Thalia Symphony, and Ziegeunerwiesen, with the North Cascades Concert Band.
Four years ago, Sharyn founded a chamber music series in the Skagit Valley, held at the Lincoln Theater, which showcases international and local fine musical artists in a historic setting: the Starry Night Chamber Music series, in which Sharyn has performed many solos and chamber works of the standard repertoire.
Sharyn currently directs the Mt. Baker Youth Symphony and the Fidalgo Youth Symphony, and leads the Summer Sounds Music Camp for Mt. Baker Youth Symphony each July. She is also the choral director at Mt. Vernon Christian School.