About Mt. Baker Youth Symphony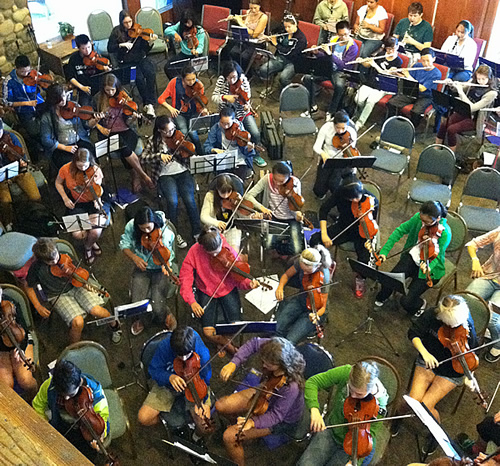 Our Mission
Mt. Baker Youth Symphony promotes personal growth and self-esteem while teaching the values of teamwork and excellence, through preparation and performance of musical masterpieces for musicians through age 21 during regular rehearsals and concerts throughout the academic year.
Mt. Baker Youth Symphony
Conducted by Sharyn Peterson, this group consists of the most experienced players, who perform challenging symphonic literature on an advanced level. An audition is required.
Mt. Baker Junior Symphony
Conducted by Malcolm Peterson, this ensemble is designed for musicians with a minimum of two years of experience on their instrument. The group performs symphonic arrangements which teach the musical skills needed to advance. They also join with the Youth Symphony for one finale piece per concert, creating the Festival Orchestra. No audition required.
Mt. Baker Sinfonette
The Sinfonette is open to students with one year of instruction on a stringed or wind instrument or at the director's discretion. This program is an excellent preparation for beginning students as they develop their instrumental skills in preparation for entrance into the Junior Symphony. No audition required.
Auditions for Youth Symphony
Details about auditions for Youth Symphony can be found on the Members' Info page.
Registration forms are available here and also at the following Bellingham locations:
Quist Violins, 320 W. Champion St., 360-647-1984
The Music Shoppe, 2401 Meridian St., 360-647-9160
Bellingham Public Library, 210 Central Ave, 360-676-6860
Rehearsals

Rehearsals are held every Monday evening beginning in September at
Whatcom Hills Waldorf School
941 Austin Street, Bellingham, WA 98229
Sinfonette rehearses from 6:00pm to 7:00pm
Junior Symphony rehearses from 6:00pm to 7:30pm
Youth Symphony rehearses from 7:00pm to 9:00pm
Tuition
Tuition is $330.00 per year for the first child. Additional siblings are discounted to $310.00. $250 for Sinfonette ($225 for sibling). This tuition covers all of the musical elements offered by MBYS. A student may choose to participate in more than one group for no additional cost, if they can accommodate both in their schedule.
We prefer payment in full in September. If this is not possible, we accept 3 payments of $130 in September, $100 in January, and $100 in April.
How to reach us:
Mt. Baker Youth Symphony
P.O. Box 5611
Bellingham, WA 98227
Sharyn Peterson, Artistic Director, 360-421-2527, or click here to email Sharyn or sharynpeterson@hotmail.com