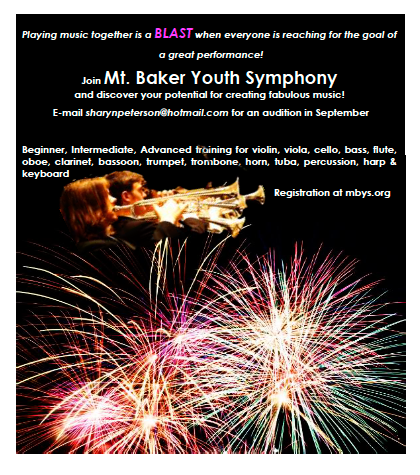 Mt. Baker Youth Symphony (MBYS) provides a wholesome and stimulating environment for talented and hard-working young musicians. Emphasis is placed on an atmosphere that encourages, challenges and develops their fullest potential in the art of musical performance.

Participants benefit from a year-long youth symphony program designed to nurture their enjoyment of music as well as develop their musical skills and self-confidence. In addition to full rehearsals, a gifted professional coaching staff provides specific instruction for the instrumental groups within each ensemble. Performances throughout the season include full orchestra concerts as well as small ensemble opportunities.

Our styles are not limited to classical music only. We incorporate jazz, fiddle, folk, Broadway, movie music, and ethnic styles. We aim to enrich the lives of families with music participation which is meaningful to them. Requests for favorite musical selections are encouraged.

Rehearsing at Whatcom Hills Waldorf School is located at 941 Austin Street, Bellingham, 98229. Returning and new members may  arrive at Alia Hall, at 6:00pm for Sinfonette and Junior Symphony, and at 7:00pm for Youth Symphony, during the first month after any concert.

New students auditioning for Youth Symphony must schedule an audition with Sharyn Peterson. E-mail Sharyn at sharynpeterson@hotmail.com, or text her at 360-421-2527.

If you desire to promote performance opportunities for NW Washington youth, please share this website with your contact lists and encourage young musicians (all levels) to join the ensembles.
For more information or to sign up today contact:
Sharyn Peterson, artistic director, 360-421-2527 or send an email.